Office Cabins - Expandakabin
this listing is fr the 4.3 model
PLEASE ASK FOR DELIVERY COST BEFORE BUYING .. Delivery prices from £110.0 - £260 depending on post code
PRICES ON REQUEST
Three sizes
2.3 long
3.3 long
4.3 long
Metres

Developed for a demanding market where a low cost, high quality flatpack building is required, the unique Expandakabin enters the market with more benefits and a lower price tag, than any portable building system to date.

(1) The ExpandaKabin arrives flat packed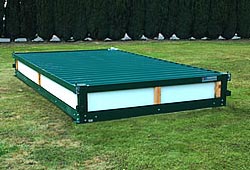 (2) Unpack all of the panels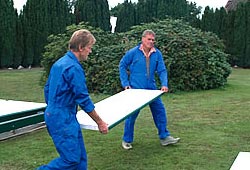 (3) Fix the four corner posts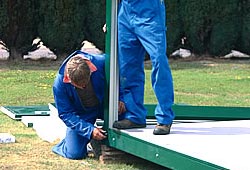 (4) Slide in the wall, door and window panels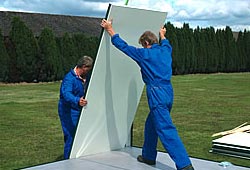 (5) Fit the ceiling retention bars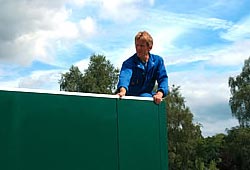 (6) Slide in the ceiling panels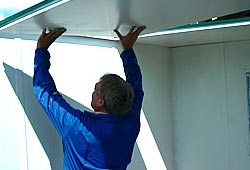 Expandakabin is ready for use in approx 60 minutes! No cranes or special tools are required for assembly. Just a socket set and you're away!
Construction Sites
School / College Classrooms
Laundry Rooms
Workshops
Park Offices
Highway Offices
Military Check Points
Garden Offices
Club Houses
Scout + Guide Meeting rooms
Observation Posts
Sleeping Accommodation
Workers rest / break rooms
Security Kiosks
Arriving as a flatpack self-assembly kit, the unit can be deployed by air, sea or road.
The minimum of shipping cube is achieved during the packing process, a massive 325m3 of accommodation can be delivered on one articulated lorry. This is the equivalent of 141m2 of floor area. Previously, only soft sided structures such as tents or inflatable buildings could offer this type of instant accommodation volume.
Expandakabin does not require a crane or special tools to assemble. Each panel can be lifted be hand, and the only tools required are a socket set. Once assembled, the Expandakabin can be enlarged, by bolting on further units. Simply remove the panels from one side of each unit, and bolt them together to form large areas of open plan space, side by side or back to back. Units can be moved with forklift, crane and lorry either assembled or flat packed.
This panel system also means that doors and windows can be relocated within the structure. All panels can be bought separately, so damaged ones can be replaced, or additional doors and windows can be added.
The structure is manufactured from powder coated galvanised steel to give the product high strength and a long life span.
Standard unit complete with 1 x Window and 1 x Door
Additional Windows / Doors can be ordered
Colour: Green (RAL6005) exterior - off white (RAL9002) interior
Available from stock in two sizes / 3.3 metre long and 2.3 metre long
Both units 2345mm high (external
There is a complete ELECTRIC PACK available. The Pack includes -
Heater
Light & Switch
An Electric Socket
A Fuse Box
Plastic Trunking
Mounting Panel
For total flexibility:
Extra doors and windows can be added
Security window grilles
Linking kits available to link additional cabins to create more space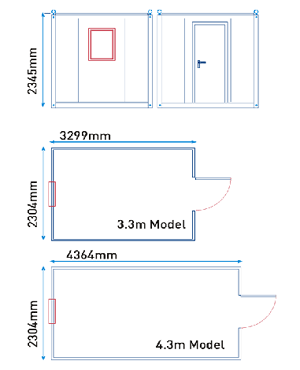 Expandakabin Plans:
Great Products - Great Service - Competitive Prices - TEL: 01935 476555

Large or small

Single or multiple

Fast Delivery


Competitive delivery charges on all containers from our 11 strategic UK distribution sites.


Contact Us Now for your free container quotation