Fully galvanised body New extra secuity locking bar now available, please ask <<<<<£55.00

MK=Expanda-Store is the answer
It is light enough to be man handled and the components are small enough to fit through small passageways. No need for cranes, forklifts or specialist tools. Just a socket set - and you're away! (Up until now, the only alternative product was a tin shed, which offered minimal security, and even less in aesthetic appearance). Once erected, it can be lifted from its lifting eyes with a cargo on board!

MK=Expanda-Store can be linked to another Expanda-Store unit to form large open plan areas of storage space as required (side by side and end to end).

Features:
Optional forklift feet
Optional self levelling feet
Optional 'Snap-in' shelf uprights & arms
Optional external powder coated painting
Low cost
The newly improved Expanda-Store now comes with a double locking system for additional security at no extra cost.
If you would like to view any of our products, please get in touch and we will arrange a viewing time for you.
AVAILABLE IN THREE LENGTHS - 2 metre 3 metre & 4 metre
All units are 2100mm high and 2100mm wide
one large wide 1250mm door.
With a double locking system
FULLY BOLTED CONTAINER, FROM THE INSIDE, even hinge bolts are internal..
CAN BE ERECTED IN AROUND 20 MINS !! Just a socket set required.
MOST SECURE FLAT - PACKS ON THE MARKET !
Delivery costs from just £85.00 depending on postcode .. PLEASE CHECK POSTCODE CHART BELOW AND INCLUDE AT checkout
Extra's are delivered free if ordered with main unit
MK=Expanda-Store is a new solution to an old problem; How can you get a secure storage unit into previously inaccessible areas?
Less storage space when not in use
Simple assembly
Fully expandable (modular) capability
Flat-Pack Containers - Expandastore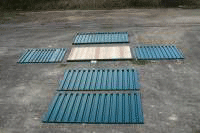 TOTAL VERSTILITY WITH THESE FLAT-PACK
MK DEMOUNTABLE STORAGE CONTAINERS
These incredibly versatile 'flat-pack' containers allow you to construct your container on site at your convenience, when and where you need it.
Fully galvanised body
Simple to assemble
Low cost
All 2100mm high
All 2100mm wide
Choice of 2000mm 3000mm & 4000mm long
No lifting gear required
Additional units can be linked
Only a socket set required to erect
Double locking system is standard
Ready for use in 20 minutes
Delivery charges depending on Post code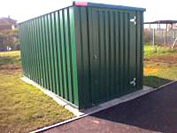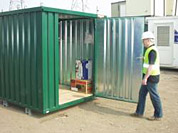 Expandastore Construction Demonstration:
PAYMENT OPTIONS
Sorry Paypal not available as a payment method on this item
CASH
CHEQUE
BACS / CHAPS
Debit cards fee free!
Credit cards + 2.5% card fee
Plans
DELIVERY INFORMATION:
Delivery costs are from £85.00 + vat upto £240.00 + vat for Scotland
Delivery costs are based on 'part loads' to keep costs as low as possible, we load around 10 on one truck and complete deliveries to differant parts of the UK on differant weeks, max. delivery time is normally 3 weeks, however, if you place your order on the week we are going to your post code ara delivery of your unit could be added :-).
Urgent deliveries are available by special direct delivery, delivery costs are higher
Also, this page is set up for ordering of one unit only.
If you require 2 units please contact for total delivery cost,
If ordering more than two please contact for delivery cost and best container quote